Catherine True Ending
Comments

24
459pages on
this wiki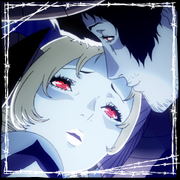 Vincent meets with Catherine at the Stray Sheep, as promised by Boss. During the meeting, Vincent confesses his love to Catherine, explaining that he is now "free" from the "herd" of society, and makes his proposal to marry her. Catherine is confused by the proposal, but admits that she has felt similarly. However, her answer is cut short by the appearance of Nergal: Catherine's father and lord of the Underworld.
Several weeks later, Catherine and Vincent are waking up in his room after a wild night. Vincent notices that Boss is lying in his bed, wearing sheep pajamas. Catherine explains that he is there to watch over the two. She hugs Vincent, saying, "It's better when someone's watching...", and she pulls herself on top of him. The camera pans out and, through Vincent's bedroom window, the Underworld and Astaroth's tower can be seen, implying that he and Catherine now live in the Underworld.
Many months after the conclusion of the game, Vincent is residing in the Underworld with Catherine. Having been exposed to the Underworld for so long, he has been transformed in some kind of nude demon. He is, according to his harem of succubi, such an excellent male specimen that many of them forego their duties.
Nergal , on the other hand, is essentially dethroned and used as a throne by Vincent, who has become a powerful king in the Underworld. It's implied by Vincent's reaction that he didn't actually notice he was sitting on Nergal at first, giving a slightly suprised "Oh. Hey there, Dad. Didn't, uh, didn't see you there.". It's possible that before the scene he was just sleeping, and has only woken up just then.
Ending Credits Gallery
Edit